GET READY FOR THE HOLIDAYS WITH OUR SCRUMPTIOUS FACIAL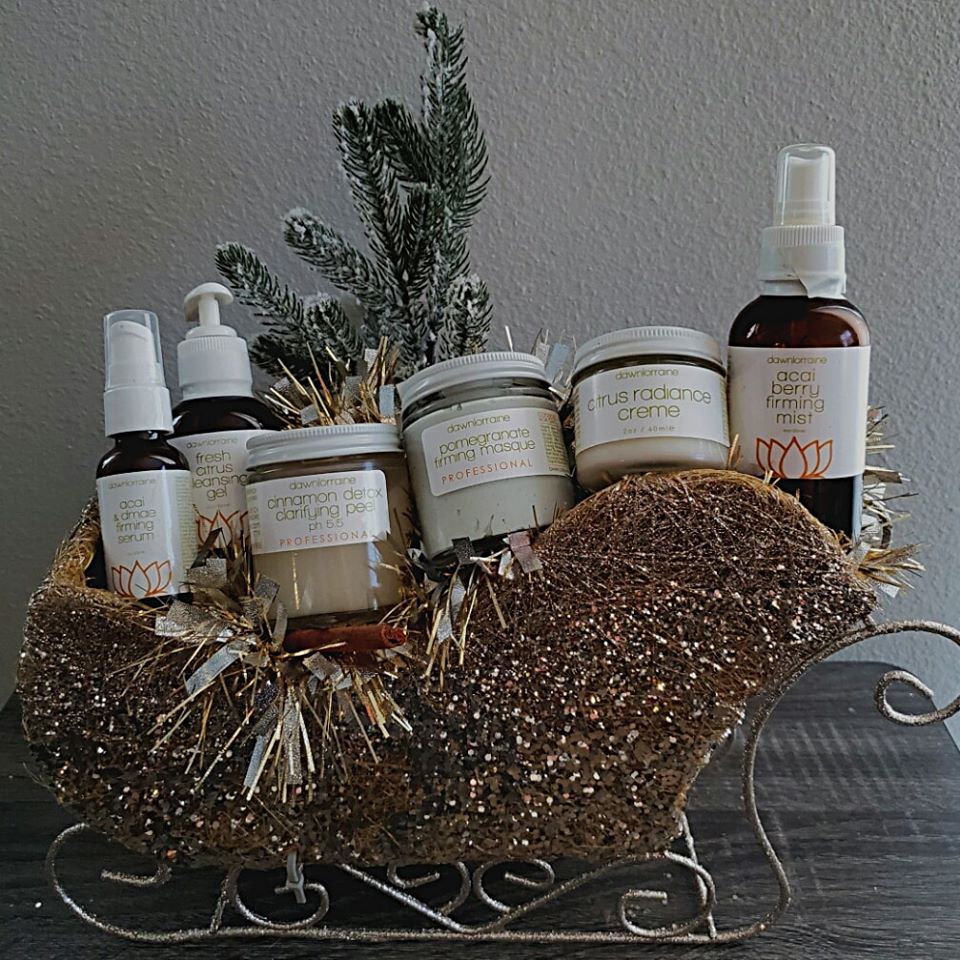 PHOTO & VIDEO COURTESY OF Vanity Beauty LLC
Our luscious Cinnamon Citrus & Pomegranate Holiday Facial is back!
You want Holiday deliciousness?  How about Cinnamon? We know, yum right?
What if we add in some luscious some fresh juicy, delicious citrus?   We know, super yum, right?
And, what if we topped it off with some luscious Pomegranate??  
It's ok, we'll wait - while you compose yourself!  
Holiday Aromas
These gorgeous natural aromas and ingredients are wonderful for the December holidays!  
This facial begins with our newly reformulated Fresh Citrus Cleansing Gel, with skin sloughing enzymes and lightening and brightening citrus. Followed by our recently nominated deeply detoxifying Cinnamon Detox Clarifying Peel (professional only) that sizzles away dirt, debris and dead skin, stimulates circulation for extra brightness and helps heal those pesky holiday eruptions from food and schedule indulgences. It finishes with flooding your skin with the refreshing and lifting effects of our Pomegranate Firming Masque!  
Click Here for Holiday specials through Dec 10 
Call your Dawn Lorraine Esthetician TODAY to schedule this must have clarifying and brightening holiday treatment!
Featured Products 
Fresh Citrus Cleansing Gel 
This best seller, is even better with an all new amazing formulation.  You have to experience it to believe it. A refreshing sugar based citrus cleansing gel that cleanses thoroughly without stripping, refreshes and brightens. This product is now formulated with active exfoliating enzymes and turbinado sugar. 
For our Professionals:
Apply and leave on for 5 minutes under steam for a mild enzyme peel at the start of any facial.  
Home Care
Use as a daily cleanser. In addition, clients can leave it on for 5-20 minutes as an at home gentle exfoliating enzyme treatment. Remove with a warm towel and the result is instantly refreshed, smooth and glowing skin!

Cinnamon Detox Clarifying Peel 5.5 ph (Must have a Wholesale Account to purchase ) Sizzle away dead skin cells and surface debris without the use of harsh chemicals.  Cinnamon and enzymes combine to detox the skin while improving circulation. (Need a Wholesale Account To Access)
Actives
Pumpkin Enzyme
Dissolves dead skin, naturally high in Ferulic and Folic Acid, Vitamin C & Beta Carotene. Smooths fine lines and softens skin.
Papaya Enzyme (Papain)
Dissolves dead and damaged skin cells by digesting keratin proteins. Antioxidant, anti-inflammatory, rich in vitamin C, E and beta-carotene Is a gentle, non-sun-sensitizing exfoliating option for sensitive, dehydrated skin.
Cinnamon Oil 
Natural Exfoliant that plumps the skin and reduces fine lines. Stimulates collagen. Improves circulation to the skin and is naturally antibacterial and antifungal. Reduces inflammation. Promotes a brighter, firmer, more youthful appearance
Ginger Enzyme
Contains the antioxidant Gingerol. Reduces inflammation. Promotes a brighter, firmer, more youthful appearance
Pink Grapefruit Oil High in Vitamin C. Astringent and antioxidant. Increases the blood flow to the skin.
Pomegranate Firming Masque
- ( Must have a Wholesale Account to purchase)
There's no disputing the antioxidant power of Pomegranate.  There is also no denying that his masque has one of the most intoxicating fragrances and will instantly hypnotize every client. (Need A Wholesale Account to Access)
Actives
Peptides  
Alternative to botox that inhibits the ability to create muscle contractions which can contribute to fine lines and wrinkles.  
Dmae 
A naturally-occurring substance that  increases levels of acetylcholine and phosphatidylcholine for anti-wrinkle benefits.  Produces an instant firming effect.    
Alpha Lipoic Acid 
One of the most potent antioxidants with anti-inflammatory properties. Increases cell metabolism and skin's healing ability. Improves skins overall texture and tone. 
Hyaluronic Acid 
Can bind 1000 times its weight in water to the surface of skin. Plumps fine lines and increases surface hydration.
Pomegranate 
A potent source of Omega 3's which promote skin regeneration.  High in antioxidants that help protect against environmental damage.
If you would like to open a Wholesale Account please follow the steps on our website under the Wholesale link, click OPEN ACCOUNT in the drop down menu.
---
11 Responses